Are you one of the millions of people who have hip discomfort globally? Do you think that your limited mobility keeps you from engaging in the things you like doing? You should consider having a hip replacement if you indicated yes to any of these.
The diseased hip joint is removed during hip replacement surgery, and an artificial joint is placed. This procedure can considerably enhance your quality of life by lowering pain and improving mobility. You're in luck if you live in Delhi since Dr Kunal Aneja is one of the most outstanding orthopaedic surgeons in the area.
Dr Kunal Aneja is a hip replacement surgeon with extensive training and expertise in Delhi. With his experience, he can complete hip replacement surgeries so you may resume your regular activities. We will learn more about hip replacement surgery in this article and discuss why Dr Kunal Aneja is the ideal option for your procedure.
What is Hip Replacement Surgery?
Hip replacement surgery, also known as total hip arthroplasty, is a surgical procedure that involves removing the damaged hip joint and replacing it with an artificial joint. The artificial joint comprises metal, ceramic, or plastic components replicating the natural hip joint's movements.
The surgery is usually performed under general anaesthesia and takes about 1-2 hours. During the surgery, the surgeon makes an incision on the side or back of the hip, removes the damaged joint, and replaces it with an artificial joint. The surgery may also involve the replacement of the hip socket if it is damaged.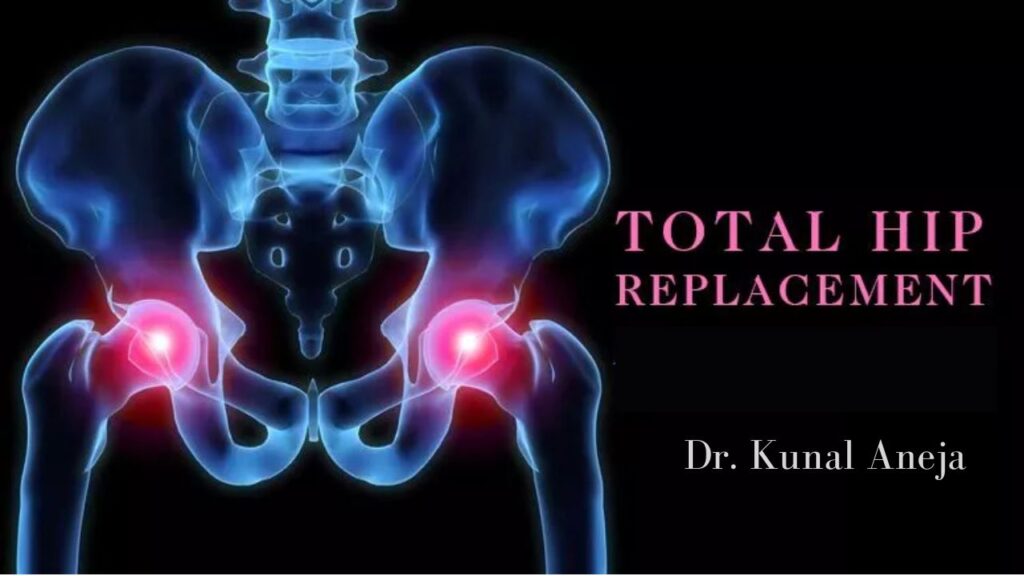 What are the Different Types of Hip Replacement Surgeries, and Which One is Right for You?
Hip replacement surgery is a standard procedure involving replacing the damaged or diseased hip joint with an artificial one. There are different types of hip replacement surgeries, and the type of surgery that is right for you depends on various factors, such as the extent of damage to the hip joint, your age, and your overall health. Here are the different types of hip replacement surgeries:
1. Total Hip Replacement
Total hip replacement surgery involves replacing the entire hip joint with an artificial metal, ceramic, or plastic joint. This surgery is commonly performed for patients with severe hip joint damage due to arthritis, injury, or other conditions.
2. Partial Hip Replacement
Partial hip replacement surgery, known as hemiarthroplasty, involves replacing only the damaged part of the hip joint with an artificial joint. This surgery is usually performed for patients with a fractured hip or arthritis that affects only one side of the hip joint.
3. Minimally Invasive Hip Replacement
Minimally invasive hip replacement surgery involves making smaller incisions and using specialized surgical instruments to access the hip joint. This technique reduces the risk of complications and shortens the recovery time compared to traditional hip replacement surgery.
4. Anterior Hip Replacement
Anterior hip replacement surgery involves accessing the hip joint from the front of the hip rather than the back or side. This technique can reduce pain and speed up the recovery time compared to traditional hip replacement surgery.
5. Revision Hip Replacement
Revision hip replacement surgery replaces a previously implanted artificial joint that has become worn out or damaged. This surgery is usually more complex than the initial hip replacement surgery and requires a highly skilled surgeon.
The level of the hip joint's degeneration, age, and general health all play a role in determining the kind of hip replacement surgery that is best for you. To choose the best hip replacement procedure for your requirements, consult a knowledgeable orthopaedic surgeon like Dr Kunal Aneja.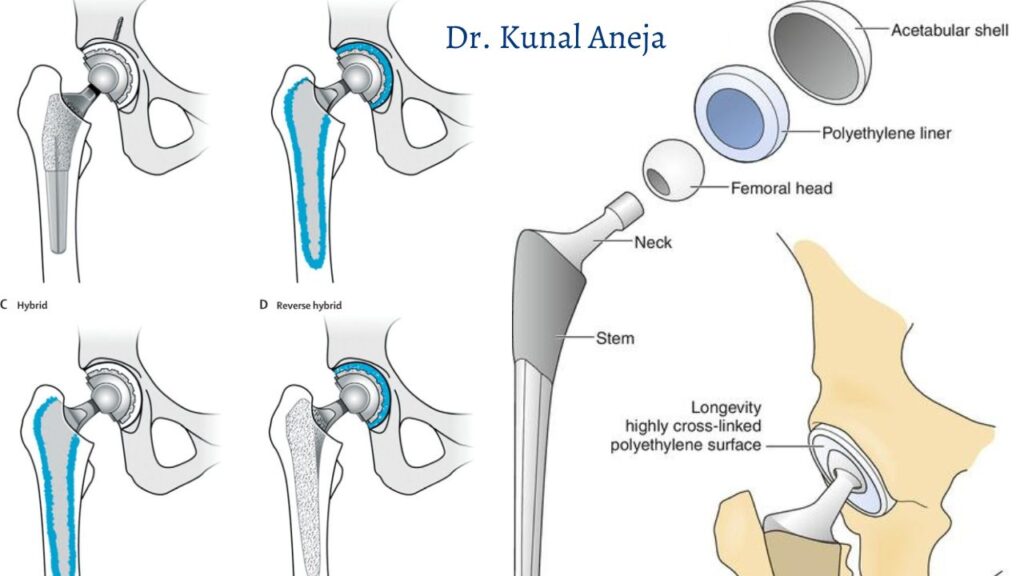 How to Choose the Right Hip Replacement Surgeon for Your Needs?
Choosing the right hip replacement surgeon is crucial to ensure a safe and successful surgery. Here are some factors to consider when selecting a hip replacement surgeon:
1. Predentials and Experience
Choosing a surgeon with the proper credentials and experience in hip replacement surgery is essential. Look for a surgeon who is board-certified in orthopaedic surgery and has extensive experience performing hip replacement surgeries.
2. Referrals and Reviews
Ask your primary care physician, friends, and family members who have had hip replacement surgery for referrals to a good surgeon. You can also read online reviews and ratings to understand the surgeon's reputation and success rate.
3. Hospital Affiliation
Check if the surgeon is affiliated with a reputable hospital or surgical centre specializing in hip replacement surgery. This ensures the surgeon can access the latest technologies and resources needed for surgery.
4. Personalized Care
Choose a surgeon who provides personalized care and attention to their patients. A good surgeon should take the time to answer your questions and address your concerns, providing a comfortable and supportive environment.
5. Communication Skills
A good surgeon should have excellent communication skills and be able to explain the procedure, risks, benefits, and recovery process in a way that is easy to understand. They should also listen to your concerns and provide clear instructions and follow-up care.
6. Cost
Hip replacement surgery can be expensive, so it's essential to consider the cost of the surgery and your insurance coverage. Look for a surgeon who provides transparent pricing and accepts your insurance to avoid unexpected bills.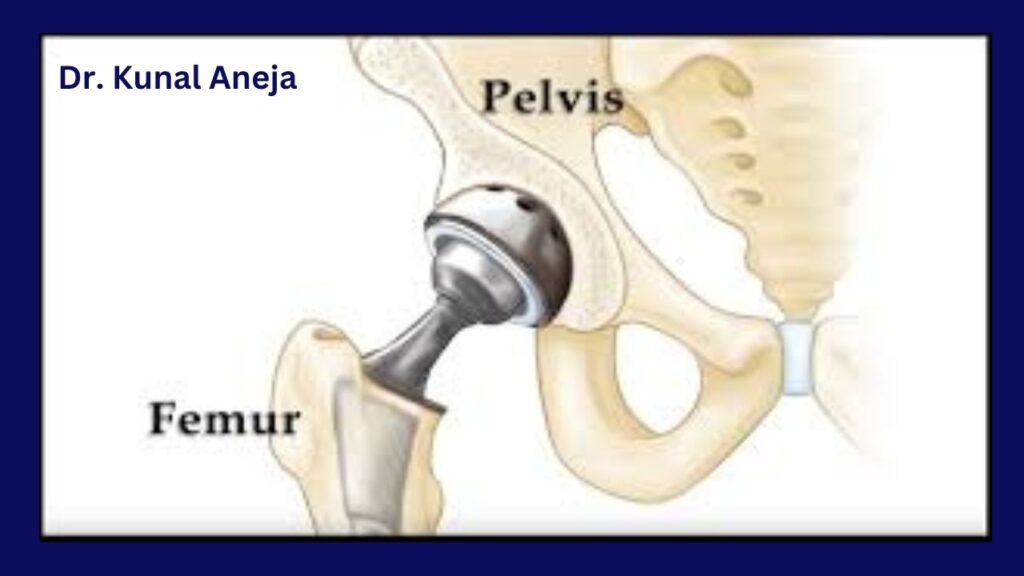 Who is Dr Kunal Aneja, and Why is He Considered One of the Best Hip Replacement Surgeons in Delhi?
One of Delhi's most well-known and skilled orthopaedic surgeons, Dr Kunal Aneja, specializes in hip replacement surgery. He has conducted thousands of successful hip replacement procedures and has more than 15 years of experience in orthopaedics.
At prestigious schools like Maulana Azad Medical College and AIIMS, New Delhi, Dr Aneja received his medical training. Additionally, he has obtained extensive hip replacement surgery training from reputed medical facilities in India and internationally.
The dedication of Dr Kunal Aneja to patient care and security is unmatched. Every patient receives individualized care and attention from him, and he is always accessible to address any queries or worries.
Modern facilities used by Dr Aneja, along with the most current surgical methods and technologies, guarantee that his patients receive the best care possible. His group of committed medical experts, including nurses and physical therapists, collaborates closely with patients to achieve a quick and complete recovery.
One of Delhi's top hip replacement surgeons, Dr Kunal Aneja, has a reputation for his skill, experience, and attentive care. His services are sought by patients across India and beyond who want to recover their quality of life and relieve hip pain.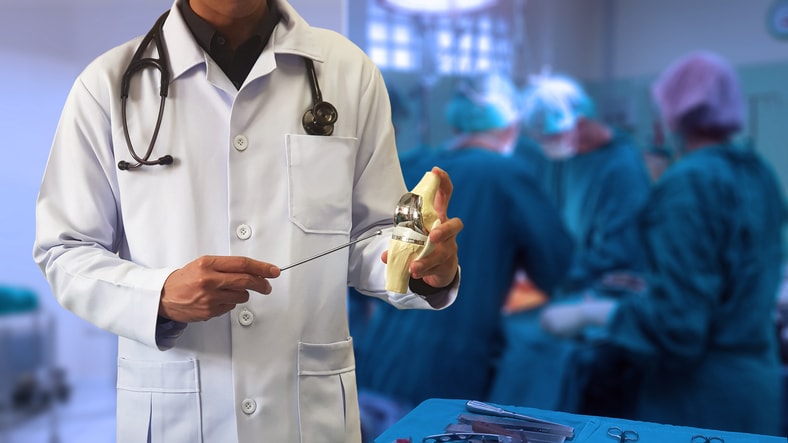 How Long Does It Take to Recover from Hip Replacement Surgery, and What to Expect During the Recovery Process?
Recovery after hip replacement surgery varies from patient to patient and depends on several factors, including the type of surgery, the age and overall health, and the patient's commitment to rehabilitation. Generally, the recovery period can range from a few weeks to several months. Here's what you can expect during the recovery process:
1. Hospital Stay
After the surgery, you'll typically stay in the hospital for a few days to monitor your recovery and manage any pain or discomfort. Your medical team will help you start walking and begin rehabilitation exercises during this time.
2. Pain Management
Hip replacement surgery can cause pain and discomfort, which can be managed with medication. Your medical team will work with you to develop a pain management plan that helps you stay comfortable while minimizing the risk of addiction to painkillers.
3. Rehabilitation Exercises
You'll need to do rehabilitation exercises to regain strength and mobility in the hip joint. Your medical team will create a customized rehabilitation plan that starts with simple activities, such as ankle pumps, and gradually progresses to more complex exercises, such as standing and walking.
4. Walking Aids
During recovery, you may need to use walking aids such as crutches, a walker, or a cane to help you move around. Your medical team will advise you on the best type of walking aid and how to use it safely.
5. Physical Exercise
Physical therapy may also be required, in addition to rehabilitation activities, to help you regain hip joint strength and mobility. Your medical team could suggest that you work with a physical therapist to create a personalized fitness regimen.
6. Sustained Care
You must follow up with your medical team frequently after release to track your development and modify your rehabilitation plan as necessary. Additionally, you'll need to show up for checkups to be checked for complications like infections or blood clots.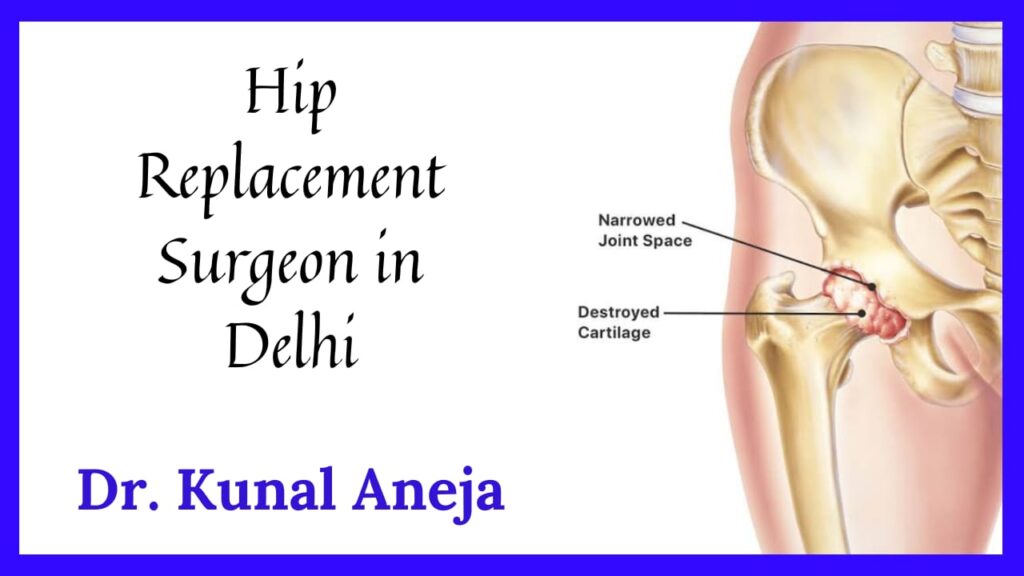 Conclusion
Hip replacement surgery can drastically raise your quality of life and change your outlook. One of Delhi's top hip replacement surgeons, Dr Kunal Aneja, should be seen if you are experiencing hip pain.
Dr Kunal Aneja is ideal for your hip replacement surgery because of his experience, individualized care, cutting-edge facilities, and compassionate care. You may ensure a quick and painless recovery by adhering to the pre-surgery recommendations, adopting lifestyle adjustments, and attending follow-up appointments.
Don't let hip pain prevent you from engaging in the activities you enjoy. Take the first step toward a life without pain by contacting Dr Kunal Aneja today.