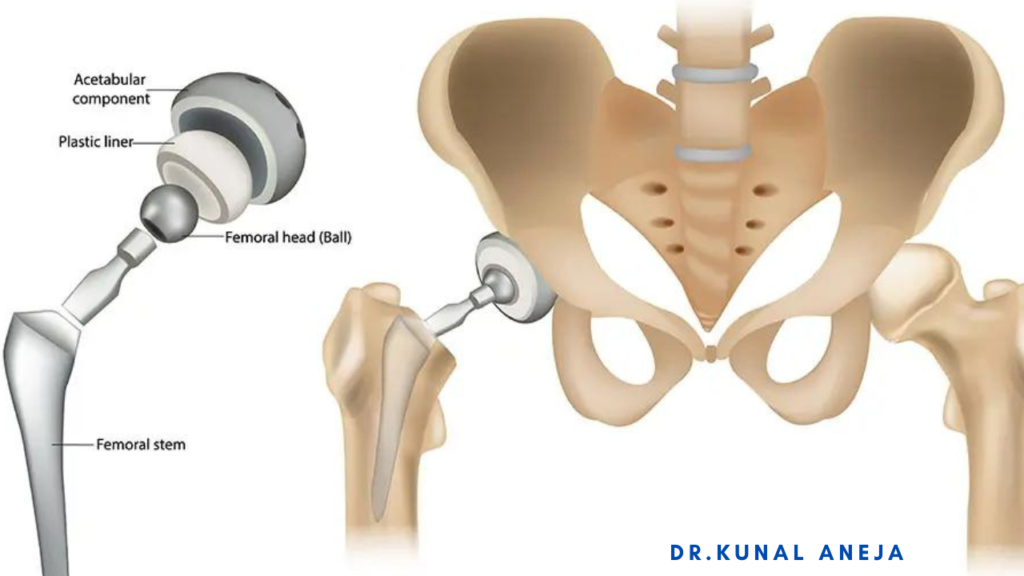 A complex medical procedure, such as hip replacement surgery, demands the involvement of orthopedic doctors with a great deal of expertise. There are many hip replacement surgeons in Delhi. This blog post will introduce you to Dr. Kunal Aneja, one of Delhi's best orthopedic surgeons who specializes in hip replacement surgery.
Dr. Kunal Aneja is the best hip replacement surgeon in Delhi and has successfully performed many hip replacement surgeries. His patients appreciate his responsiveness and compassion, and he has extensive orthopedic experience. Dr. Aneja's office is equipped with cutting-edge medical technology and tools to ensure that his patients receive the finest possible care.
What is Hip Replacement Surgery?
An artificial joint, called a prosthesis, replaces a damaged or worn-out hip joint in hip replacement surgery, also called total hip arthroplasty. Joints such as the hip, which are ball-and-socket joints, connect the femur to the pelvis, allowing the thighbone to move fluidly and smoothly.
The surgeon makes a slit to gain access to the hip joint during surgery. A hip socket and the top of a femur are then cleaned, and damaged cartilage and bone are removed. A surgeon shapes the remaining bone carefully so that prosthetic components can be attached. Replacement hip joints use metal balls to replace femur heads damaged during trauma and metal or ceramic sockets to replace worn-out hip sockets.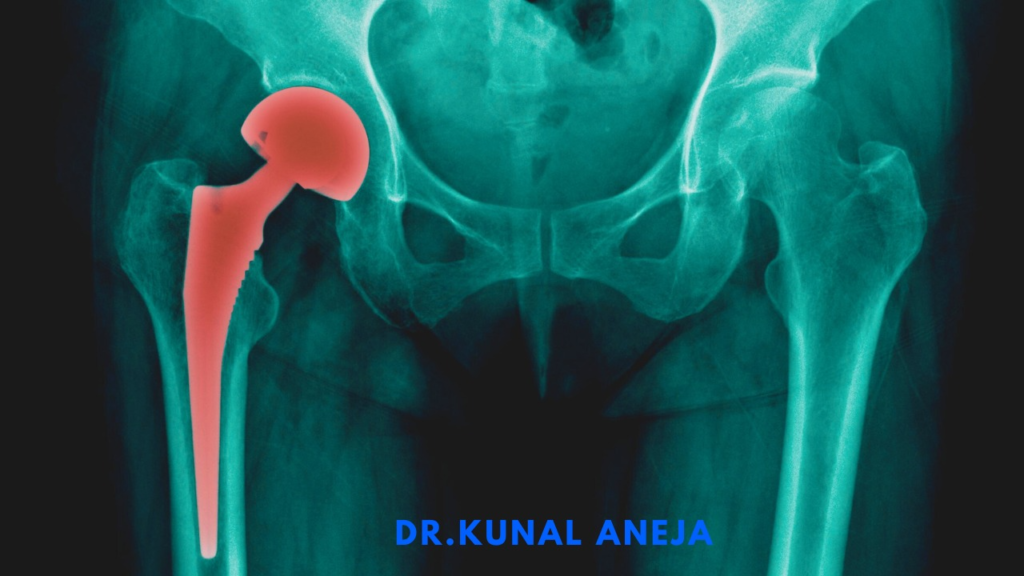 What are the signs that you may need Hip Replacement Surgery?
Some signs and symptoms that may indicate hip replacement surgery. Some common signs that may suggest the need for this procedure are:
Intense Hip Pain: If your hip pain does not improve with conservative treatments such as rest, medication, or physical therapy, your hip joint may be severely damaged.
Disability in Mobility: Difficulty getting in and out of chairs, walking, climbing stairs, or doing everyday activities, may indicate hip replacement surgery is necessary.
Stiffness and Reduced Range of Motion: If your hip joint feels stiff, making it challenging to move your leg freely or causing a limited range of motion, it could be an indication of hip joint deterioration.
Painful Hip Inflammation: A persistent hip inflammation accompanied by swelling and tenderness may indicate an underlying condition that might benefit from hip replacement surgery.
Joint Degeneration: Over time, osteoarthritis or rheumatoid arthritis can cause progressive damage to the hip joint. Hip replacement surgery may be considered if conservative treatment hasn't alleviated the symptoms
Hip Fractures: If the hip joint is damaged by a hip fracture, hip replacement surgery may be required to repair and restore it.
How can Hip Replacement Surgery Treat certain conditions?
Osteoarthritis, rheumatoid arthritis, avascular necrosis, and hip fractures are common causes of hip pain that require hip replacement surgery. It is a good idea to consider hip replacement surgery for patients who suffer from significant hip discomfort that makes it difficult for them to carry out daily tasks.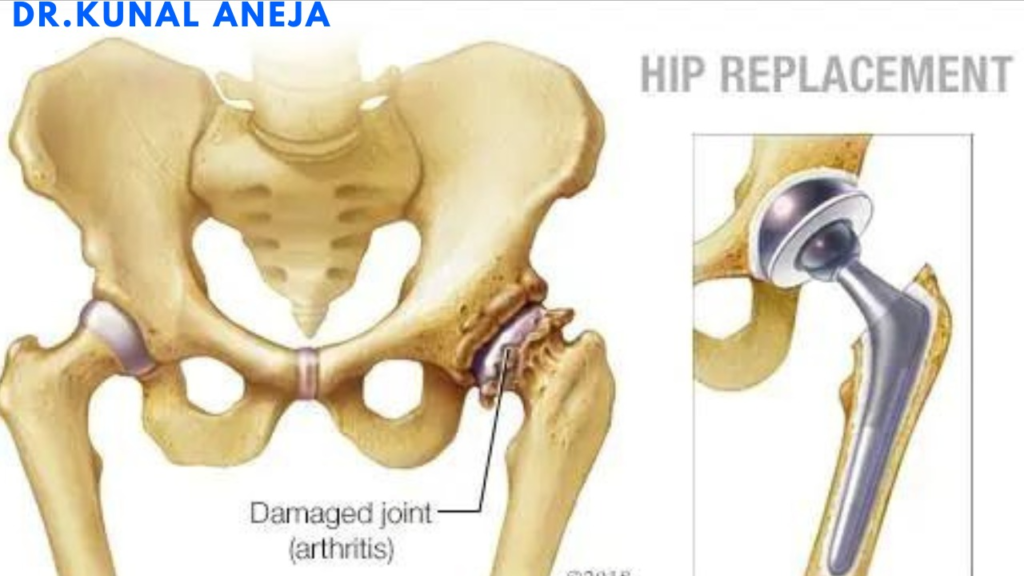 What makes Dr. Kunal Aneja the right Surgeon for your Hip Replacement?
The benefits of choosing Dr. Kunal Aneja as your hip replacement surgeon in New Delhi are numerous. You can trust Dr. Aneja with hip replacement surgery for these reasons:
Expertise: Dr. Kunal Aneja is an orthopedic surgeon with years of experience and has performed numerous successful hip replacement surgeries. The level of expertise he has in this area is second to none, and he stays on top of the latest advancements in hip replacement surgery to ensure his patients receive excellent care.
Patient Compassion: Dr. Kunal Aneja is known for his compassionate and caring approach to patient care. Before, during, and after surgery, he listens to his patients' concerns and answers all their questions.
High-End Technology: To ensure that his patients receive the best possible care, Dr. Aneja's clinic features state-of-the-art technology and the latest medical equipment. Using advanced imaging technology, Dr. Aneja can plan and perform the surgery precisely.
Exceptional Success Rates: Dr. Aneja has a high success rate in hip replacement surgery, and his patients report significant pain relief and increased mobility after the procedure.
Gratitude from Patients: His patients have highly praised Dr. Aneja for his knowledge, compassion, and high-quality care.
When undergoing Hip Replacement Surgery with Dr. Kunal Aneja, what should you Expect?
If you are thinking of having hip replacement surgery with Dr. Kunal Aneja, here are some things to expect:
Initial consultation: Dr. Aneja will perform a physical examination and review your medical history. X-rays or other imaging tests will also be done so he can see how well your hip joint is doing.
Surgical Planning: During the planning stage, Aneja will work with you to start a plan tailored to your specific needs. A variety of important topics will be discussed, including implant types and surgical techniques.
The surgery: To keep you relaxed throughout the process, you will be given an anesthetic on the day of your surgery. When Dr. Aneja makes an incision in your hip to gain access to the joint, the damaged cartilage and bone will be removed. Following the surgery, the hip joint will be replaced with an artificial joint that replicates its natural function and structure.
Recovery: To ensure that your wounds heal properly, you will have to stay in the hospital for several days after the surgery. You will receive detailed instructions from Dr. Aneja and his staff regarding how to care for your incision and manage your pain. Exercises will also be given to you in order to strengthen your hip and increase your range of motion
Following-up: Dr. Aneja will call you for follow-up visits to monitor your progress and check on your recovery. It will also be explained when you will be able to start working again and resume your regular activities.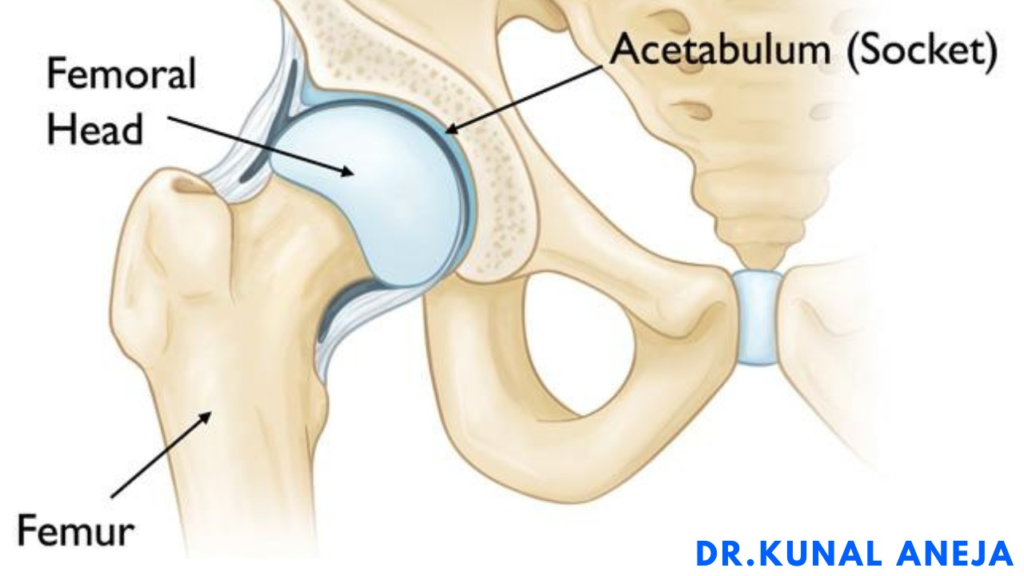 What should you do after Hip Replacement Surgery?
Stay in the Hospital: Within a few days of surgery, you'll be monitored and rehabbed. Our medical team will manage your pain, give you medication, and help you move.
Physiotherapy: Physical therapy exercises are essential to restoring hip joint mobility, strength, and flexibility. Your muscles will gradually become stronger, and your range of motion will increase, through a physical therapy program. For a smooth recovery, it is essential to follow the recommended exercises.
Support Aids: Crutches, a walker, or a cane may initially be needed to maintain stability while walking. The healthcare team should be consulted to determine when and how to transition to walking independently with these aids.
Incision Care: It is crucial to keep the surgical incision clean and dry to prevent infection. Follow your healthcare team's instructions.
Medications: Pain management is typically achieved with prescribed medications. Follow your doctor's recommended dosage and timing to control pain effectively. You may also be given blood thinners to stop blood clots, as well as antibiotics to prevent infection.
Activity Restrictions: While it is helpful to gradually increase physical activity, you must also avoid activities that could strain the hip joint. Your healthcare team will provide guidelines regarding weight-bearing restrictions, lifting limitations, and other precautions to ensure a safe recovery.
Regular Follow-Ups: It is essential to schedule regular follow-ups with your surgeon so that he or she can monitor your progress, address any concerns, and adjust your rehabilitation plan if necessary.
Changing your lifestyle: Maintaining a healthy weight, eating a balanced diet rich in nutrients, quitting smoking (if applicable), and practicing proper body mechanics will help protect your hip joint.
Why should you choose Dr. Kunal Aneja over other Orthopedic Surgeons in Delhi?
As one of Delhi's top orthopedic surgeons, Dr. Kunal Aneja stands out.Dr. Aneja's special qualities
Additional training: Dr. Aneja has completed a fellowship in joint replacement surgery and additional orthopedic surgery training.
Experience: With countless hip replacement surgeries under his belt, Dr. Aneja is one of the most sought-after surgeons for patients with complex joint issues.
Patient-centered care: Dr. Aneja listens to each patient's concerns, responds to their inquiries, and creates a treatment plan tailored to their individual needs.
The utilization of technology: Dr. Aneja uses the most modern tools and methods for hip replacement surgery, including minimally invasive procedures and cutting-edge imaging.
Conclusion
Dr. Kunal Aneja is a superb choice for hip replacement surgery in New Delhi. Dr. Aneja is one of the top orthopedic surgeons in Delhi, with years of experience, a caring attitude toward patient care, and cutting-edge equipment. Contact his practice right away if you would like to find out how you can reduce your hip discomfort and increase your mobility.