ACL surgeon Dr. Kunal, one of the best in Delhi, is committed to providing excellent results for his patients and facilitating exceptional recovery. With extensive experience in ACL surgeries, Dr. Kunal guarantees top-notch care, ensuring personalized treatment plans and comprehensive support throughout the recovery process. For mobility, stability, and general well-being, rely on his expertise and commitment to excellence. Contact Dr. Kunal, the best ACL surgeon in Delhi, today and start your journey to recovery.
Finding the top ACL surgery facility in Delhi has become a top priority for many people with ACL injuries as the need for orthopedic and sports injury treatment in Delhi increases. It can be challenging to choose the ideal clinic that matches your demands, given the abundance of clinics in the city.
Thanks to our introduction of Dr. Kunal Aneja, one of Delhi's most known orthopedic surgeons and authorities in sports injuries, you won't need to look any further. Dr. Kunal Aneja has assisted many patients in recovering from ACL injuries and returning to their regular routines because of his remarkable orthopedics and sports medicine skills. Let's explain why Dr. Kunal Aneja's facility is the finest choice for ACL surgery in Delhi without further ado.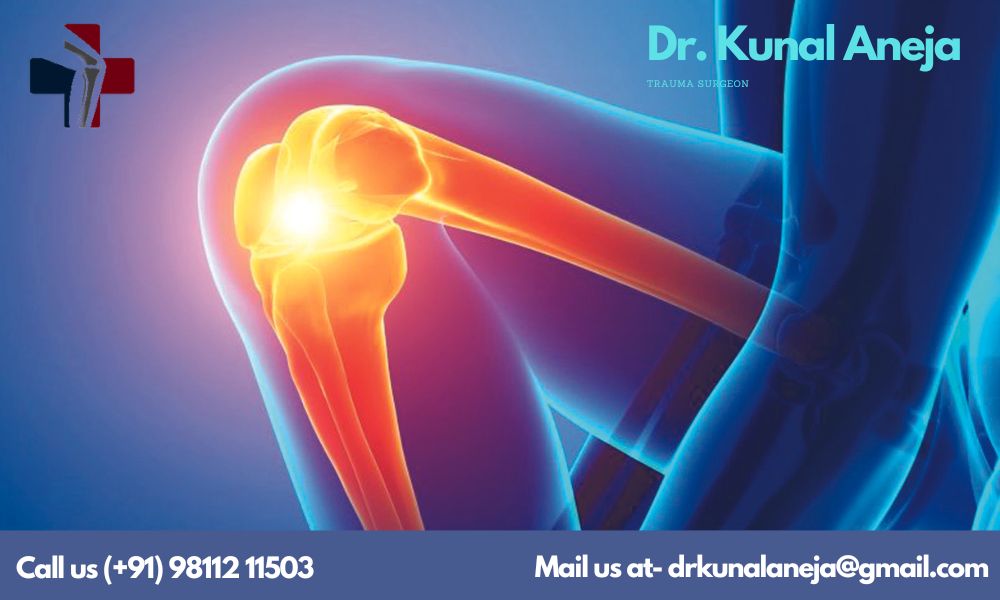 Why choose Dr. Kunal Aneja's clinic for ACL surgery in Delhi?
Why is Dr. Kunal Aneja's clinic the best option for ACL surgery in Delhi? The answer is simple – his clinic provides world-class treatment facilities and personalized care to ensure a speedy recovery.
Dr. Kunal Aneja's clinic has state-of-the-art facilities and the latest medical equipment, making it the best choice for ACL surgery in Delhi. His medical experts and surgeons are highly trained and experienced, ensuring every patient receives the best treatment.
Furthermore, Dr. Kunal Aneja believes in providing personalized care to each patient. He takes the time to understand the patient's needs and concerns before suggesting a treatment plan. This customized approach helps to develop trust and comfort between the patient and the surgeon, leading to better results.
What is ACL surgery, and when is it required?
Anterior cruciate ligament (ACL) reconstruction surgery repairs injured ACLs in the knee joint. ACL injuries are reasonably predominant in athletes and other athletic people, and they can cause excruciating pain and make movement difficult.
The important ligament known as the anterior cruciate ligament, or ACL, holds the thigh bone and shinbone together and keeps the knee joint stable. An ACL tear can cause flux and contribute to the joint's continued degeneration.
Patients with excruciating pain, edema, and instability in the knee joint need ACL surgery. It is also advised for athletes and active people who want to resume their regular activities without any restrictions.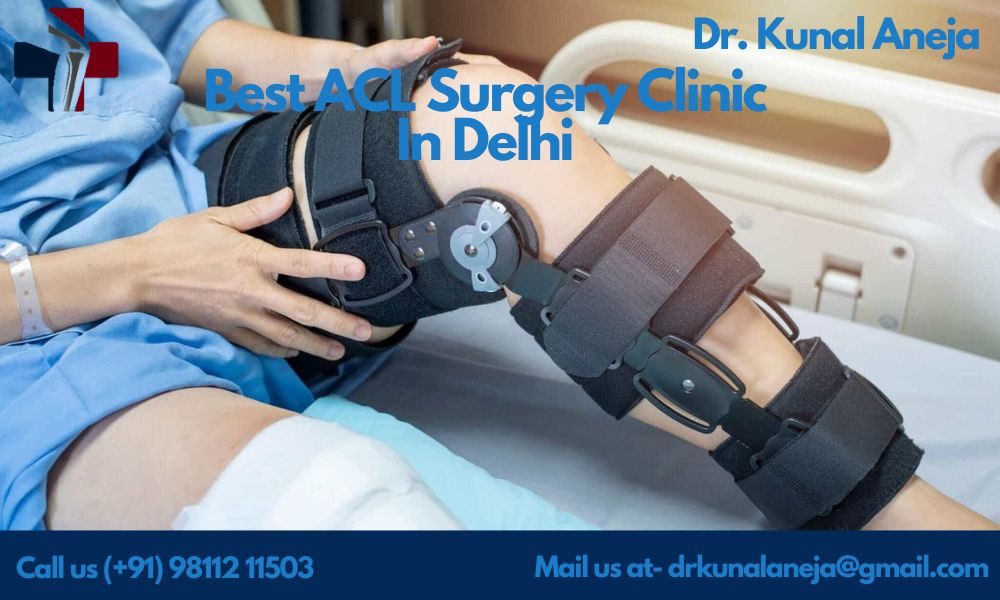 What are the types of ACL surgery, and how is it performed?
There are two types of ACL surgery – traditional surgery and arthroscopic surgery. Traditional surgery involves a large incision, while arthroscopic surgery is a minimally invasive procedure that requires only a tiny incision.
In arthroscopic ACL surgery, a tiny camera is inserted into the knee joint to get a clear view of the damaged ligament. Then, small incisions are made to insert surgical instruments to remove the damaged ligament and reconstruct the ACL using a graft.
The graft is usually taken from the patient's hamstring or patellar tendon, or it can be a donor graft. The new graft is then fixed using screws or other devices to hold it in position.
What are the advantages of arthroscopic ACL surgery over traditional surgery?
ACL arthroscopic surgery has many benefits over open surgery. Several of these benefits include:
The procedure with minimally invasive: Arthroscopic surgery only needs a small incision, lowering the risk of problems and speeding up recovery.
Reduced discomfort and edema: Compared to standard surgery, arthroscopic surgery causes less pain and edema since it is less intrusive.
Sooner recovery: Compared to standard surgery, which can take several months, arthroscopic surgery allows patients to get back to their regular activities considerably more shortly, typically within a few weeks.
Fewer problems: Compared to regular surgery, arthroscopic surgery has fewer complications, such as infections and scars.
What is the recovery process after ACL surgery, and how long does it take?
The recovery process after ACL surgery can vary depending on several factors, such as the extent of the injury, the type of surgery, and the patient's overall health condition. However, generally, patients can expect the following recovery process:
Immediately after surgery, the patient is advised to rest and keep the leg elevated to reduce swelling.
The patient must wear a knee brace or splint to stabilize the knee.
Physical therapy and rehabilitation exercises will be prescribed to help the patient regain strength and flexibility in the knee joint.
After a few weeks, the patient can gradually start with light activities, such as walking.
Full recovery can take several months, and the patient should avoid activities that involve sudden and intense movements.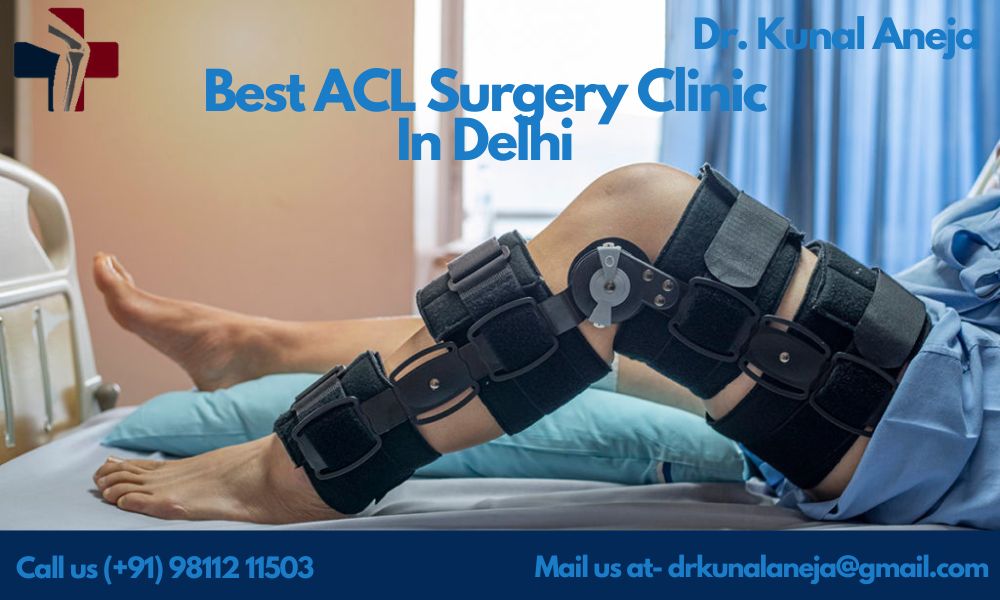 Dr. Kunal Aneja and his medical experts provide personalized rehabilitation programs to help patients recover faster and reduce the risk of complications.
What are the success rates of ACL surgery at Dr. Kunal Aneja's clinic?
Dr. Kunal Aneja's practice has a remarkable success record regarding ACL surgery. The patient's age, general health, and the severity of the damage are a few variables that can affect the success rate.
However, Dr. Kunal Aneja has a success rate of over 90% in ACL procedures thanks to cutting-edge surgical techniques and specialized rehabilitation programs. His remarkable abilities and knowledge in orthopedics and sports medicine are demonstrated by the high success rate of his procedures.
How can I book an appointment at Dr. Kunal Aneja's clinic for ACL surgery in Delhi?
You can schedule a consultation with Dr. Kunal Aneja's office by following these easy steps if you have an ACL injury and are looking for the top ACL surgery facility in Delhi:
Visit the clinic on Dr. Kunal Aneja's website.
Give your contact information and explain your medical issue on the web form.
The clinic's representative will call you to confirm your appointment.
Bring any relevant test results and medical records with you on the appointment day.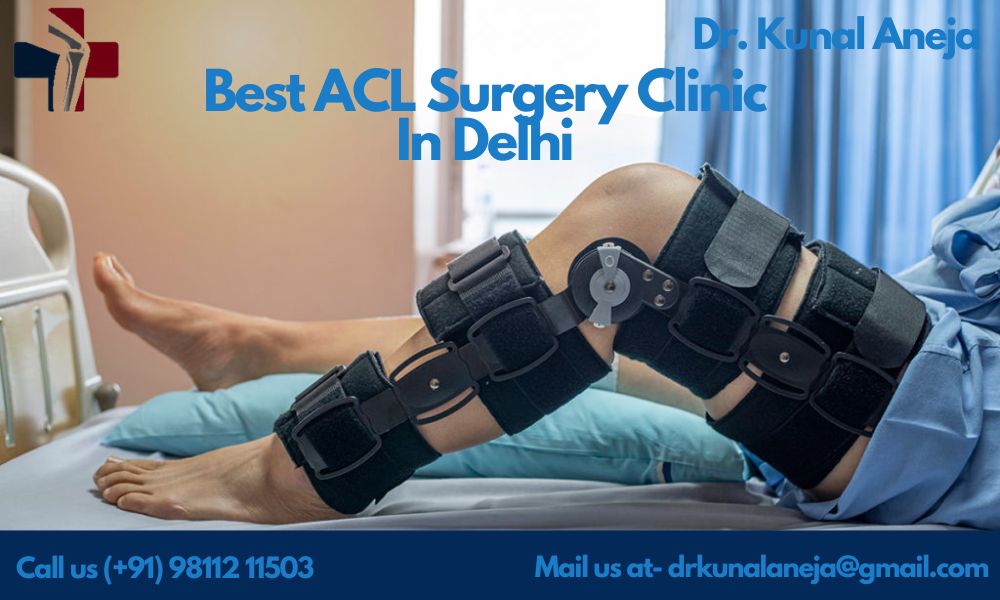 Conclusion
In conclusion, Dr. Kunal Aneja's clinic is the ideal option if you're looking for the top ACL surgery facility in Delhi. With the most up-to-date surgical methods, individualized rehabilitation plans, and his extraordinary talents and expertise in orthopedics and sports medicine, he has achieved an ACL surgery success rate of over 90%. The clinic also offers cutting-edge amenities and individualized care to ensure patients get the most outstanding service and experience possible. It's easy to take the first step toward a quick recovery from your ACL damage with a straightforward and hassle-free appointment booking process. Please don't put it off any longer; schedule a consultation with Dr. Kunal Aneja's office to reclaim your mobility and quality of life.